A press conference was held, the 24th July, at Palazzo Marino in Milan, to introduce the first edition of Milano Green Forum, which is a permanent workshop to ponder about the relationship between Public Administration, companies, third sector and citizens in urban settings. The first edition of Milano Green Forum will be held from September 12th to 14th at MiCo Congressi.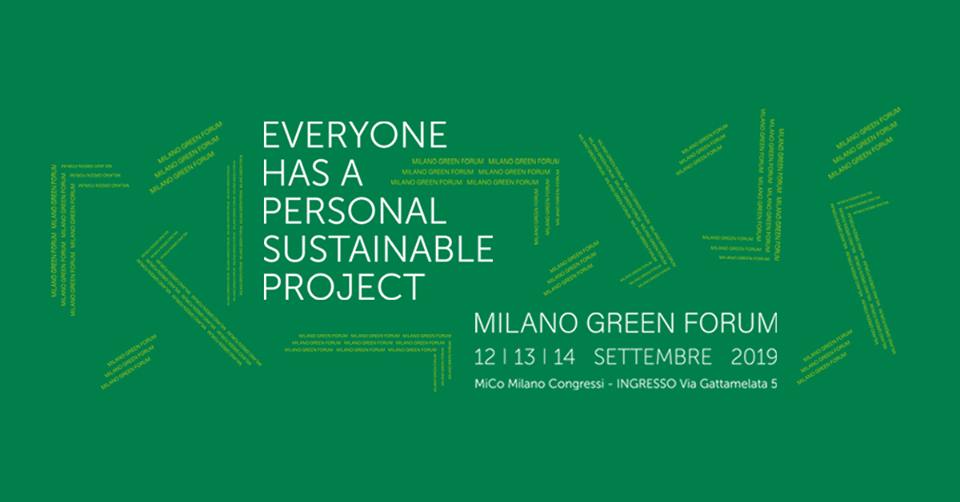 Cristina Tajani, Councilor for Labor Policies, Productive Activities, Commerce and Human Resources of the Municipality of Milan started the conference, which was under the moderation of Maria Grazia Persico, event's press office. The Councilor Tajani stated that it is remarkable the way in which « initiatives like these contribute to making the city of Milan a national reference point about environmental issues and about new economic models based on circular economy and on sharing ». He continues, stating that « The possible opportunities provided by the green economy, and more in general from all collaborative practices, can be seen as new ways of understanding and doing business. The latter generate modern forms of community and modern economic processes, which we must consider and make the best use of".
« All of us have a sustainable project »: this is one of Milano Green Forum's claims that the organisation wants to promote and disseminate. Starting from this concept, the project's spokesperson Costanza Kenda explains the idea behind it: "With this event, we aim to include every single aspect of environmental issues in a workshop – in contrast to a hyper-specialised world. The event will include a copious number of moments to talk with sector experts, including international ones; it will be provided space for technology thanks to an entire session dedicated to start-ups". Involvement is the watchword: in addition to the conference sessions there will be a multimedia room, where people have the possibility to interact with new virtual channels and workshops and, finally, Fuori Green which will focus on environmental sustainability issues though films screening. In such ways, the event organisers aim to involve as much people as possible in sustainable issues.
Fiera Milano Congressi SpA is partner of the event; the exhibition center's Chief Executive Officer, Francesco Conci, confirms that: "Milano Green Forum certainly represents an opportunity for the conference sector, confirming that it is fundamental providing moments to talk about such issues. Fiera Milano Congressi, after almost two years of planning, is proud to support such a project, which has clear assumptions: to spread sustainability culture and to speak to a heterogeneous public". "Over the last year – continues Conci – to confirm its sustainable values, the company has undertaken a series of investments and planning activities, subsequently obtaining the Gold level Healthy Venue Certification for MiCo, relamping with LED lights, digital signage, electric charging stations, separate waste collection in a brand-new recycling depot. Moreover, the company is currently undertaking a LEED and Plastic Free certifications ».
During the three-day event, various themes will be covered: for instance, social housing, green jobs and circular economy. Sergio Urbani, General Manager of Fondazione Cariplo stated, at the end of the conference, that: "I see as a necessity to support initiatives just like the one of Milano Green Forum's; it has become more and more relevant to help such events that involve citizens and stakeholders firstly, in order to build networks which might help to shorten the distances between different knowledge and community actors, in order to possibly find more innovative and effective solutions".
The event, in partnership with Fiera Milano Congressi, is furthermore supported by Eni, Stora Enso, Accredia, AMAT (Agenzia, Mobilità, Ambiente, Territorio), Canon, DNV-GL as sponsors, Herman Miller, HAY, Studeo Group as Technical Sponsors and by Carbon Tracker, Institut National de l'Economie Circulaire, Remade in Italy as Supporting Partners. Communication activities are provided by Fiera Milano Media, and press office is managed by MGP, Cultura Immagine e Comunicazione.